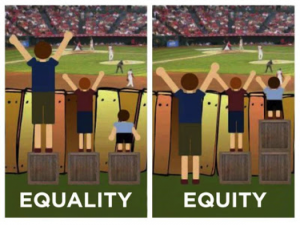 People tend to be very uncomfortable talking about race, ethnicity, gender, sex or poverty.

That's a shame.

These issues are inextricably tied to most of society's problems, yet very few people can communicate properly around them – let alone take real action.

This is a major roadblock for those working to improve the public's health. Nearly every county health officer that Brown·Miller Communications has interviewed for our ongoing Health Officers Communications Project identifies inequity as a major health threat. But what does that mean in the context of health?

Health inequities are systemic differences in health outcomes that spring from unfair social conditions or disparities in the distribution of resources. For example, low-income families are more likely to live near polluters that increase the risk for asthma. African-Americans are more likely to see tobacco advertisements, start smoking and develop lung cancer. Women are more likely to be victims of domestic violence.

All of these adverse health outcomes are the result of social problems and, in general, not personal behavior, genetics or happenstance. Yet many in the health arena focus on fixing the aftermath of these outcomes, instead of the basic inputs that are overwhelmingly preventable.

In other words, our obsession with health care reform and pharmaceuticals has distracted us from the real roots of our problems.

Low-cost policies and programs that decrease pollution in low-income areas can prevent high-cost asthma. Controls on tobacco marketing can prevent young African-Americans from becoming addicted. Changes in social norms, through public relations campaigns, education and organizing, can prevent domestic violence.
Prevention is key.

But for prevention to be successful, health leaders must work with every other sector of society to push for social changes that influence public health.

That means county health officers must work with other county departments (housing, economic development, human services, etc.) to address the social determinants of health. They also must communicate better with community organizations, advocacy groups and stakeholders to coordinate their work for maximum impact. We're working with all of them to help make this happen.

But you, dear reader, can also help turn the tide against health inequities by changing the way you think and the way your organization works, thus helping shape society's norms.
Here are a few steps:

1. Recognize your privilege. Bear with me – I'm not trying to be "politically correct." But I am going to be frank. Every person is born into their own unique situation that frames their behavior, interacts with other's preconceptions and guides their path in life. Some situations make it easier to be healthy and successful. If you're born to two white parents, in a wealthy neighborhood, you're much less likely than the average person to have heart disease when you're fifty. But if you were born a black foster child, in a low-income neighborhood, you're much more likely to take up smoking (because of intense marketing at the local convenience store), eat fast food (because that's your only option) and gain weight (because the city never invested in public parks in your community). Then, you will probably develop heart disease by your fiftieth birthday.

Life is like a marathon. But in this marathon, some people begin at the starting line, while others begin one step from the finish line. Addressing health inequity requires us all to ask a critical question: where did I start my marathon?

2. Communicate and act in a manner that recognizes oppression and counters it. It is important to recognize when something you say or do perpetuates inequity. Don't stumble into prejudicial behavior like assuming certain groups "don't show up" or "don't fit in," or that going into a particular community is a "safety concern." Don't assume certain groups are being hypersensitive when they react to your actions. From their perspective, you may have inadvertently participated in an injustice. Don't dilute action by focusing on "helping everyone" when certain groups have greater needs and we only have a limited capacity for action.

3. Change business as usual. Create a "new normal" by openly challenging oppression when you see it. This can be done by working with community organizations to call for change, putting pressure on elected officials and business leaders, or reforming your own organization from the inside. The key is to open up lines of communication between as many groups as possible to build community capacity.

I have only touched the tip of the iceberg in this primer. If you want to dive even deeper into the subject of health inequity, the National Association of County and City Health Officials (NACCHO) offers a free online course on the subject called "Roots of Health Inequity." It's highly interactive and very informative. I strongly recommend it.
~Jonathan